Subscribe and never miss a draw
What is a lottery subscription?
When you subscribe to a lottery it means you opt to have your lucky numbers automatically re-entered into every draw. We make sure you have the chance to win sky-high jackpots week in week out with our simple and hassle-free subscription service.
How do I subscribe?
It's simple! Just follow the three steps below to subscribe and never miss a draw.
1
Select the lottery of your choice
2
Pick Your Lucky Numbers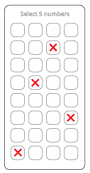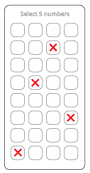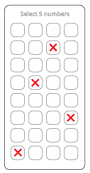 3
Choose the "Subscribe and Never Miss a Draw" option before selecting your desired billing period

Can I modify my subscription?
Of course - you can modify your subscription with our Customer Experience Team via chat, phone or email. Changes must be made at least 24 hours before the next draw.
How it works?
We will automatically enter your betting slips into every subsequent draw of you selected lottery. All subscription purchases must be made with a credit or debit card. You can modify the duration of your subscription at the time of purchase by selecting 2, 4, 8, 26 or 52 weeks. At the end of this period, your subscription will automatically be renewed.

Here's a selection of our most popular draws - Subscribe in seconds and be in with a chance of being our next big winner.